Wash of the cat / dog / horse
Derma4 Gentle shampoo is suitable for frequent use as it washes hair gently without irritating the skin. Derma4 also moisturises and calms the skin and reduces dandruff efficiently. Derma4 shampoo brings lustrous shine and silky softness to hair. However, Derma4 shampoo does not wash off and change the texture or coarseness  of  the hair in coarse haired breeds, nor inbuild weather proof quality of water and original breeds.The shampoo is easily rinsed off. The gentle wash is based on plant originated nonionic washing agents and the skin care on natural compounds like: argan oil, aloe vera, shea butter and lavender.
Reserve adequate time for washing your animal. Wet hair and skin thoroughly. Apply undiluted shampoo to very dirty areas. For  everyday use, Derma4 shampoo can be diluted, 1:5 – 1:20 dilution depending on how dirty the animal is. Apply shampoo to all hair and to skin. Rinse well.  Rinse-out Derma15 Lusterious conditioner can be used as a conditioner in wet hair. Derma9Luxury shine&care in towel dry hair. The finer and thinner the hair, the less Derma9 spray is required. For fine hair, it is also recommended to use when hair is dry. Derma15 conditioner also moisturizes skin and can be massaged on skin. Both Derma9 and Derma15 condition hair and support hair structure and facilitate the combing hair tangle- free and decrease static on hair. Derma15 conditioner can be used as intensive hair treatment by increasing the leave in time prior rinse out. More information on haircare can be found in section grooming.
Please ensure that skin and hair are thoroughly dry as wet hair and moist skin provide excellent growth conditions for unwanted microbes. Skin under rug is especially prone to unwanted microbe (e.g. bacteria) growth. Skin folds eg. face and neck need to also be checked regularly to ensure that no dirt or excess moisture is left.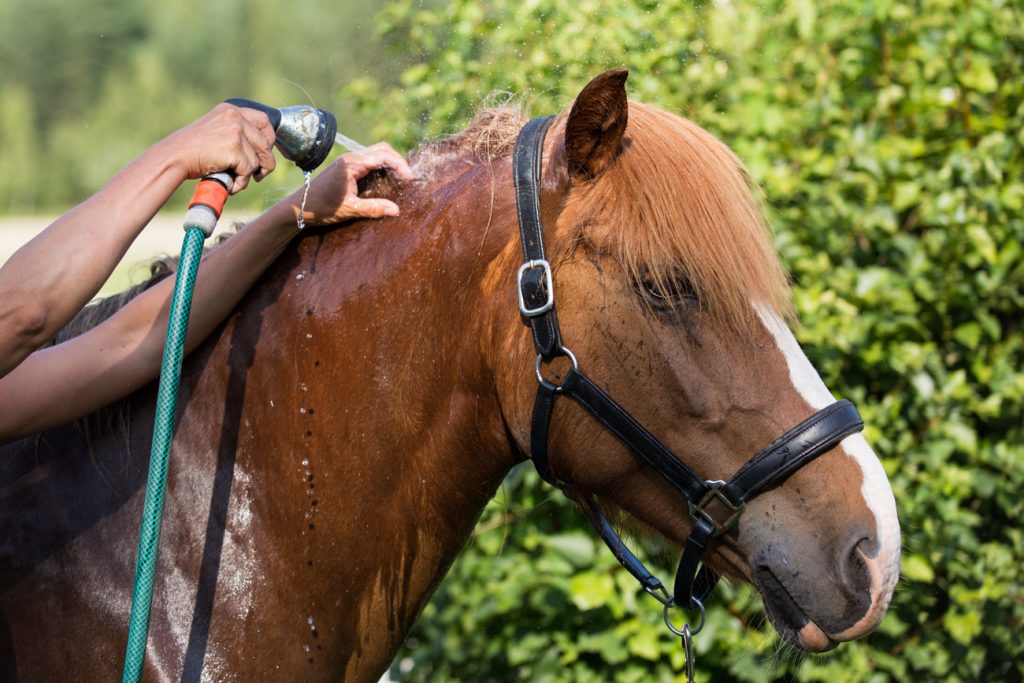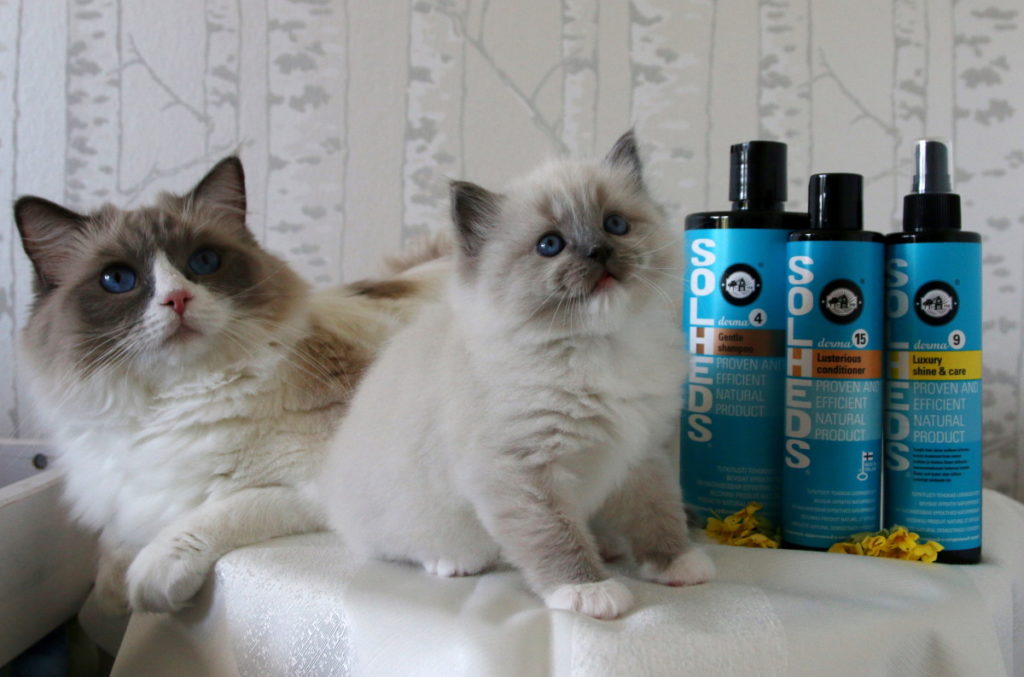 TIPS for washing and skin care
A useful tip for washing a sweaty horse is adding a capful of Derma4 Shampoo into the washing bucket, and to sponge wet horse with this diluted shampoo water. Rinse with plain water. Derma4 reduces the water's surface tension and makes it easier for the water to reach hair and skin. Even a small amount will produce a noticable shine to animal's hair/coat. When rinsing and washing off mud, salt, pitch and sea water from your dog, a little amount of Derma4 shampoo will enhance the washing efficacy. It will ease the detachment of dirt from the skin as well as provides care on skin and leaves beautiful shine on fur/hair. As a  good preventive skin care measure, wash off paws and stomach with mild Derma4 shampoo, especially  in winter and autumn , when streets are salted.
Application of Derma9 Luxury shine&care spray leaves breathable, dirt & snow protective layer e.g. on stomach and paw pads. Derma9 spray also provides moisture and care for the skin.
Dirty animal is more prone to skin damage
Correct hygiene for horses includes grooming, washing off sweat and wash when required. Correct hygiene for cats and dogs includes grooming the hair/fur and wash when required. Dirty animal is more prone to skin damage.
BREED SPECIFIC DIFFERENCIES IN HAIRCARE
Structure of the hair varies in between different breeds in cats and dogs. Different breeds have structural differences in their coat. Dogs with coarser  hair e.g. Labradors, can utilize beneficial  oils in products better. The silky , fine type hair with little structure e.g. ragdoll cats and Afghan hound , need less amount of oils  in haircare. In practice it means diluting Derma9 Luxury shine&care as well as Derma15 Lusterious conditioner with water for  more finer hair , even to  1/10 ratio. How much to dilute Derma4 Gentle shampoo depends on how dirty the animal is. The quickest way to wash the animal is to bath the animal in Derma4 Gentle shampoo  e.g. in a tub.  Mixing Derma4 into the washing water, enables easier  washing  as your animal will get wet quicker due to  reduced water tension.
As an example: Wash Ragdoll cat and haircare
Diluting Derma4 Gentle shampoo in ratio of  1/10 in washing water is sufficient when washing in a tub. If you want to wet your cat first and  then use the shampoo,  Derma4 Gentle shampoo used in a  1/5 ratio is the best option.  
The traditional wash for shows is often very harsh in long-haired cats. When needing to get your animal ready for a show, where fluffy hair is optimal, Derma4 Gentle shampoo can be used undiluted.  Traditional shampoos use hard washing agents that wash away fatty acids and are too aggressive.  Derma4 Gentle shampoo will produce the same result with less irritation for the animal.  The washing power of Derma4 Gentle shampoo is sufficient to wash even white cats clean.
If you want to clean hormonal oily/stud tail, a good trick is to use oil eg. Olive or coco oil and rub the oil into the greasy spot. Comb off the oiled tail and the hormonal grease will become easier to remove. Repeat the procedure if needed. Wash the area with undiluted Derma4 Gentle shampoo, repeated the wash if necessary. Other oily areas of the hair, like behind ears and base of tail can be washed with undiluted Derma4 Gentle shampoo and repeated if necessary. Use product depending on the oiliness of the area.
 Shampooing while gently massaging the hair can be a relaxing experience for your animal.
Too harsh and aggressive washing routines can easily start a vicious cycle of hair getting increasingly oily/greasy.  Too aggressive washing will dry the skin and aggravate the sebaceous glands to secrete even more fatty acids.
After washing use ½ ration diluted Derma15 Lusterious conditioner and leave for 5-10 minutes. Massaging Derma15 Lusterious conditioner both on hair and skin will provide moisture on both hair and skin. Base of tail and the tail can be left without conditioning treatment.
Spraying little Derma9 Luxury shine&care diluted ½ is an excellent for making hair less static.
SOLHEDS Derma-products are an economical option for your animal care as most products can be diluted to achieve the best care, especially for the fluffy long-haired breeds. The right dilution ratio is found by trying out what suits your animal. When diluting products, use only small amounts at the time and store the undiluted product in its original package.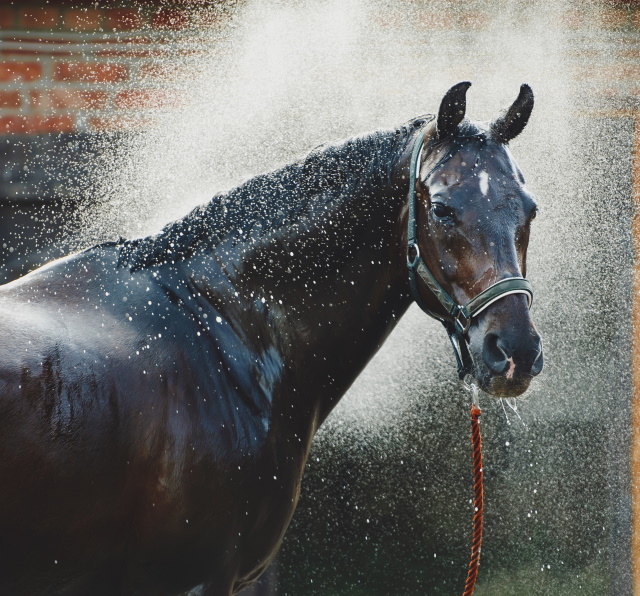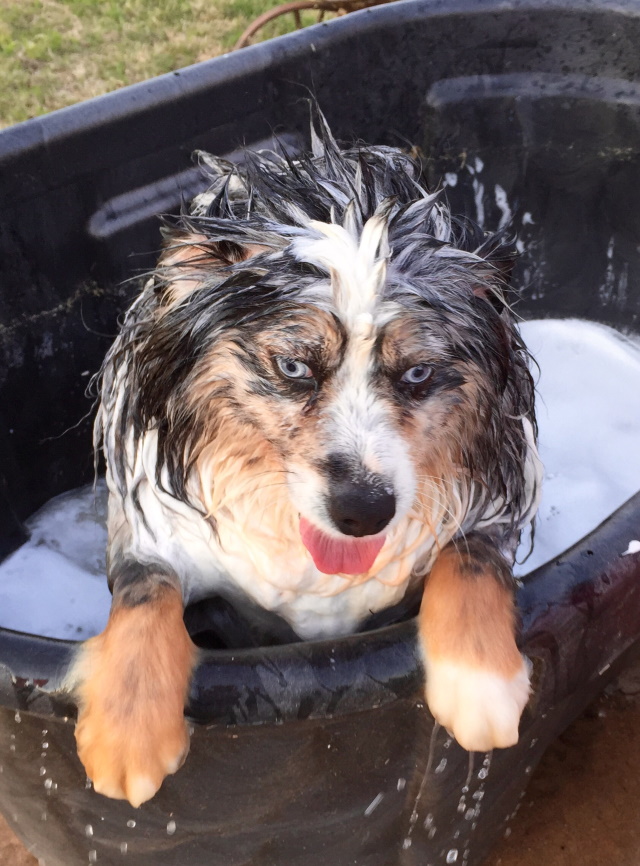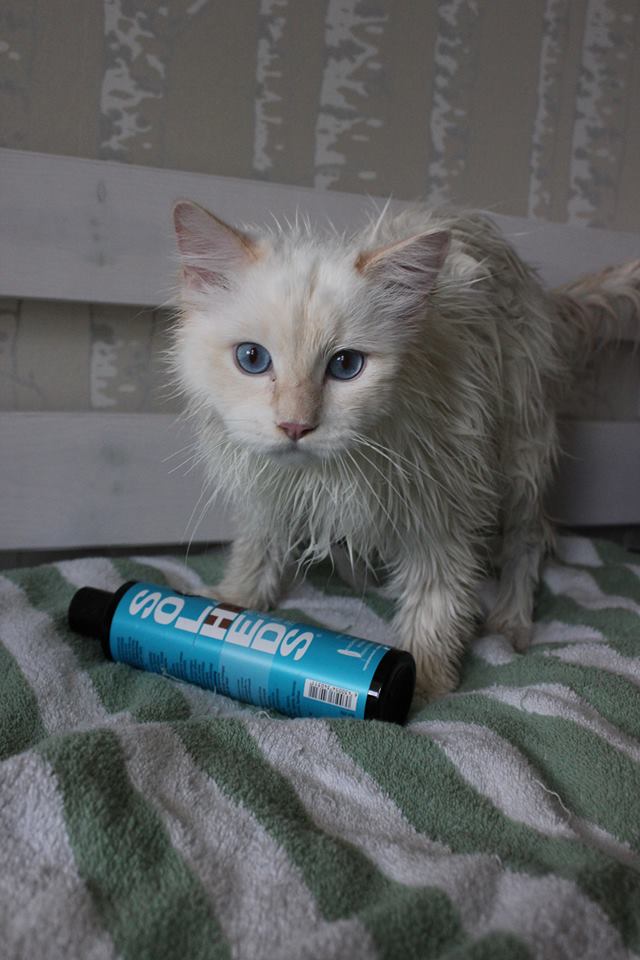 When washing your animal, choose the shampoo carefully
Ideal shampoo has pH ~7. It is also important to check the washing agents, so called tensides, used in the shampoo. Healthy animals can be washed occasionally with shampoos containing the most common anionic (sulphate) based tensides. In case your animal has sensitive or problem skin and when washed frequently, it is recommended to use shampoos containing nonionic, neutral tensides. The tensides used define the level of mildness/sensitiveness of the shampoo. Other added substances eg. Aloe vera, don't' have effect on the mildness of the shampoo , although they can provide other benefits on the skin.
If in doubt, it is always better to avoid any extra chemical burden on sensitive skin. In case your animal has itching after the wash, the used shampoo has been skin irritating or the rinse of the shampoo has been inadequate. Please be mindful that water breeds like labrador retrievers and original breeds like icelandic horses , have weather proof hair coating. This is partly due to higher concentration of fatty acids in hair, which makes their  coat "weather proof". Be careful of not weakening  the inbuild weather proofing  of the haircoat,  by washing with too strong , anionic sulphate based shampoos. Derma4 Gentle shampoo is a safe choice for the "weather proof" breeds.
Do not use products that don't disclose their ingredients list.