Product development
Proven and efficient natural products for skin, hair, tail, mane and problem skin care. Products are well suited for sensitive skin and competing animals and for those animal owners looking for more ecological and green option.
A literature review is conducted on the skin problem and to identify studies what treatments are shown to be effective in specific skin conditions prior to product development. SOLHEDs products are based on natural alternatives. It is crucial to understand the required concentration of the natural compounds e.g essential oils used in the products to ensure correct and safe amounts needed and their effect on the skin. SOLHEDs products are clinically tested and evaluated by independent veterinarian. Natural oils have a distinctive odour and often color making it easy to verify them in products. As dogs have a very sensitive sense of smell, the products should not be used very close to their nose.Products in SOLHEDS productline are not medicines.
Storage
The products are best stored in keeping products out of direct sunlight and avoiding large temperature variation. Good storage temperature is +10 – 25°C. The products are long lasting, only small amount is enough. The product comes with a tip applicator/cap facilitating easy and accurate delivery directly to symptomatic areas without wasting the product.
Products do not contain any FEI or Kennel Club prohibited compounds, thus no doping limitations or quarantine time. However, it is worth noting any local national restrictions e.g. in Sweden the use of aloe vera had 96 hour quarantine time prior competition.
Attention! We have received more data from shelf life studies, June 2020. All our products have 12 – 18 months shelf life after opening, when stored properly. In the future the new labels will have period after opening mark 18M. We apologise for confusing expiry dates on current and old products. 
Formulating
The company uses rigorious care in formulating the finished products, to ensure optimal suitability for animal use. All lotions/creams are well absorbed and easily spread on the skin. Only non ionic tensides, thus neutral washing agents, which are truely gentle are used in shampoos. These neutral nonionic tensides are easily rinsed off. Solheds does not use hard sulphate based washing agents. This avoids the too harsh wash of the animal, which would wash off crucial fatty acids of the skin and hair. The pH of the products is adjusted to pH ~7, which is in the pH range of cats, dogs and horses.
All products are  manufactured using  well researched and pure natural compounds. We use sustainable, mainly organic, quality raw materials. Only fresh vegetable oils are used. The effective ingredients in our natural raw materials are analysed to verify the effective concentration of the  ingredients. This will allow us to standardize the production inspite of the variability of natural plants. No synthetic compounds from petrochemistry like vaseline, paraffine or mineral oil are used at all. The benefit of the compounds from petro chemistry for the manufacturer is their cheap price and easy formulation of the end products. Benefits of these compounds to consumers are that they are inert, non reacting and thus hardly cause any allergic reactions. The disadvantage of these compounds is that they are usually sticky and thus collect dirt and create easily anaerobic condition on the skin, making it an ideal medium  for the unwanted anaerobic microbes (e.g. bacteria) to grow. In natural cosmetics the use of products from petrochemistry is forbidden. Neither parabens or synthetic odour- and colouring agents are used in SOLHEDS products. The chemical stress on skin is minimized ensuring that SOLHEDs products are usually suitable for sensitive skin. It is worth noting that natural compounds can raise an allergic reaction. In specific e.g. plant allergy the products containing raw materials from this plant in question will need to be avoided. All SOLHEDS products are made with natural ingredients and biodegrable.
Skin irritation is a typical side effect for medications especially  for topically given products. It can be difficult to determine the exact cause of the skin irritation with certainty as there are often other paramenters that  the owner might not have realized, causing  an impact. Eg, environment, nutrition, stress, medication, skin humidity level,  cuts/wounds and purity of the skin. Other consideration in determining the cause is to examine  what other substances have been on the skin. Sometimes it is the compounding  reaction to the substances  that causes the irritation.  The quality of the raw materials can also have an impact as the impurities of the raw materials can cause allergic reactions.
In severe skin reactions one should always contact veterinarian. It is also good to contact and inform the retailer and the manufacturer, in order to clarify the issue. Manufacturers  highly appreciate all feed back , as it is vital for product development and improvement of the products, especially in case of problems.  Skin irritation caused by products can be verified with controlled skin irritation test on clean skin. Please note that 100% allergy free products do not exist. There is always someone, who reacts to some specific compounds.
It is crucial when buying  a product , that  the label is read, especially if the animal has known allergies or sensitive/allergic skin. The important points are 1) indication, 2) how to use the product, 3) storage, 4) ingredients and 5) warnings. This information should be available in the label of the product. Instructions given by the manufacturer should be followed. For animals with  sensitive skin, we recommend testing all products carefully prior use on a limited clean and small area, in order to identify possible reaction against product.
SOLHEDS-product labels include all 4 points . No warnings are indicated   due to pure and analyzed quality raw materials. More information on raw materials can be found on raw material table.
SOLHEDS –products are subject to rigorious  research and development  in order to improve safety and efficacy of our products. SOLHEDS –products do not contain parabens, aldehydes, (methyl)isothiazolinones or other known skin irritating preservatives.  Natural products are known to spoil easily making them challenging to preserve. Due to the difficulties in preserving natural products, these compounds are commonly used by many other companies. Our comprehensive product development ensures that we can preserve our products in a skin friendly way ,  fulfilling the highest criteria set for human cosmetics without previously mentioned preservatives.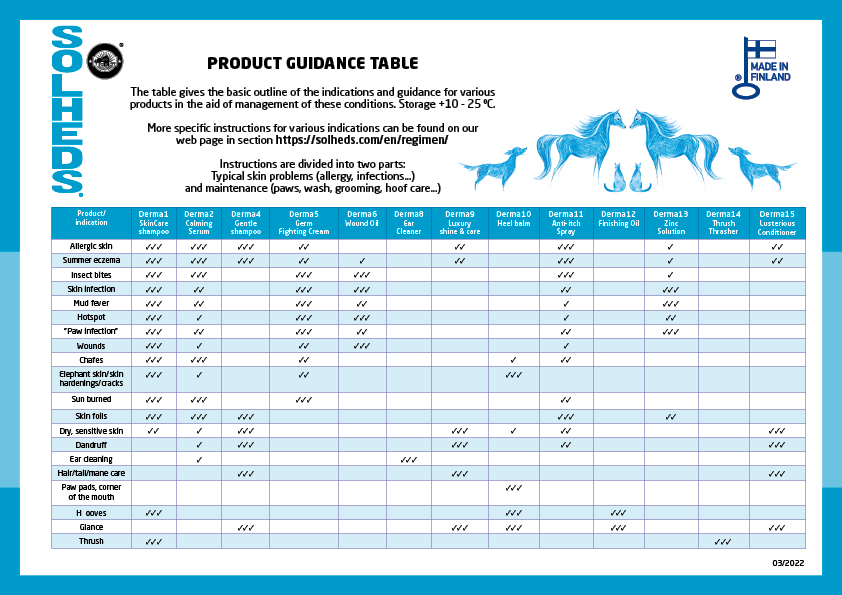 Skin problems are mostly divided into allergic over sensitivity and skin infections. The most common skin allergy in horses is summer eczema and a common skin infection is mud fever. They both share the same treatment principle of initial shampoo treatment and secondary application of skin lotions/ointments. The shampooing cleans the skin and washes of the causative agents of the allergy, decreasing the microbial load of the skin simultaneously soothing and treating the skin. Hence, the shampooing treatment is essential part of the successful treatment plan. Same rational applies to dogs (paw infection, hotspot).
In the table there can be several X on same product. E.g. Derma2 Calming serum is better applicable to the daily management of milder and long term chronic infections. Derma5 Germ Fighting cream is better applicable for the management of more severe infections and as supplement skin care for elephant skin seen in e.g. summer dermatitis, shoulders of large dog breeds. Derma1 Skin care shampoo is an excellent shampoo for SKIN care and Derma4 Gentle shampoo is an excellent shampoo for HAIR.